Careers
TAKE YOUR CAREER TO THE NEXT LEVEL.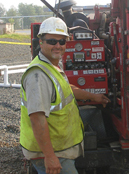 SAEDACCO offers outstanding career opportunities for those seeking to work for a growing company that can provide secure employment, a path to grow your career and excellent Benefits.
SAEDACCO, Inc. is currently seeking Probe Operators, Drillers, Driller Helpers, and Construction Services personnel due to growth and expansion. Environmental and Geotech Drilling, Sonic, HSA, Mud Rotary, Air Hammer, Rock Coring, and Direct Push Soil and Groundwater Sampling. Class A or B CDL.
Some of the benefits we offer include:
• Excellent Pay.
• Professional training on our equipment and procedures.
• Assistance in earning industry certifications.
• Relocation Assistance
• An apprentice program for those new to the industry.
• Vacation & Holidays.
• Health and Life Insurance.
• A 401K Retirement Plan and Profit Sharing.
• A Workplace that cares about safety and its employees.
Apply To Join The SAEDACCO Team Today!
Drug Testing Required.
Send Resumes To:pbyer@saedacco.com